30 March 2007 - Filed under Default
I've installed probably 20 different models of routers, from Netgear to D-Link, Linksys to Belkin and nothing comes close to these dd-wrt-loaded babies. Installation of the firmware is not too hard as long as you can find a tftp client. Just follow the pertinent instructions for the WHR-HP-G54 on this page and you're rollin'. After you've done it a time or two, it should take less than 10 minutes. I can imagine a guy with a laptop, ethernet cable, and 100 routers being able to do them all in a day.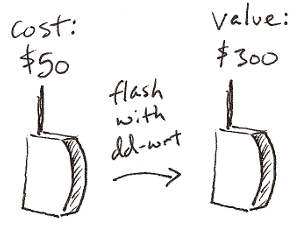 After the firmware-loading deed is done, you'll have a powerful router on your hands. I can't list all of the features here but let's just say I'm impressed with using WDS for building a small mesh network, the router's built in ssh daemon, and it's unlimited port forwarding slots. I maxed out the ports I had forwarded on my Linksys WRV54G which sucked so this is a nice feature.
Another cool thing is using QoS to prioritize and limit bandwidth to different devices. This kind of thing can help you take back your network if you've had a Vonage or Sunrocket voip appliance serving as the gateway just so it could put itself at the front of the queue.
Before I bought one of the Buffalo routers, I checked on eBay and you can find these routers already modded with dd-wrt and additional SD card storage. Wow, the possibilities…
I've got a lot more to say about this router than this but I figured I'd keep this short. Today's hardware is extremely powerful. Apps like dd-wrt are helping to deliver that power back where it belongs: in your hands.
To learn more visit http://www.dd-wrt.com
Update: As of June 2010, Buffalo has started to sell their high power routers with a slightly modified version of dd-wrt. This news makes me glad that their US wireless injunction was lifted.
2007-03-30 » David Sterry